MDF Cutting and Routering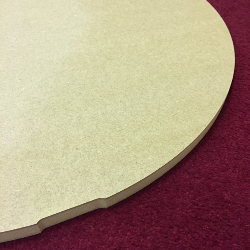 MDF cutting is one of our areas of expertise. We offer a range of MDF machining processes, cutting to size, drilling, chamfering or routering to shape, please contact us through the enquiry form on the right for more details.
Standard Grade, Moisture resistant, Exterior Grade, Available in 8' x 4', 10' x 4' and 10' x 5'. Smaller sizes also available.
We can machine MDF circles and can add drill holes, notch, chamfer and even etch a logo or reference.
What Types of MDF Do we cut and machine?
Standard MDF - one of our biggest sellers and ideally suited to building and construction applications such as cabinet making, furniture, paneling, shop fitting and van and caravan interior fitting. Click here for more about Standard MDF.
MDF Wallboards - Used typically to cover an area quickly without the need for plastering in hallways, kitchens and bathrooms. Click here for more about MDF Wallboards.
Flexible MDF - , ideal when you need to construct an even curved surface. The flex or bend can be orientated either in landscape or portrait. Click here for more about Flexible MDF.
Moisture resistant MDF - designed for use in external applications including door parts, garden furniture and fittings, outdoor display stands, panel boards for sports venues, exterior sign building, boat interior fittings, shop fronts and any kind of external woodwork. Click here for more about Moisture Resistant and Exterior MDF.
Light and Ultra Light MDF - light in weight and economical, our light and ultra light MDF boards may be just what you need. Click here for more about Light and Ultra Light MDF.
Coloured MDF - just like standard MDF but the fibres have been dyed prior to the manufacture of the board so it is a uniform colour throughout the entire board. Click here for more about Coloured MDF.
Melamine Faced MDF - is available in a large number of colour and texture variations including wood grain photo finishes. It is a very attractive alternative to solid timber or veneer when price is a major consideration. Click here for more about Melamine Faced MDF.
Flame Retardant MDF - for some building and construction applications you need the best flame proof material you can get, without breaking the bank. Click here for more about Flame Retardant MDF.
Perforated MDF - machine routed in a number of highly attractive designs where air and light is required to pass through the panels. Click here for more about Perforated MDF.
We can cut MDF in an almost infinite variation of sizes and shapes.
Why choose us
Precise and accurate cutting

Consistent results

Save time and hassle

Any shape or size machined

One-off or high volume

Nationwide Delivery

Same day response

Years of experience