Plywood Cutting, Machining, and Routering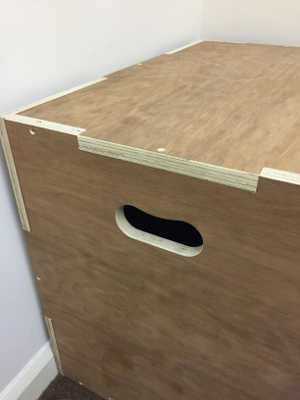 Plywood Cutting is required for many projects and accurate cut to size plywood is one of our specialties. Booker Timber are experienced and skilled in Precision plywood cutting requiring specialist tools and considerable expertise.
The project may need cut to size material in an unusual shape, and Booker Timber can help in this respect. Their plywood cutting and other cutting services use the latest in cutting machinery to make sure your cut to size plywood is smooth-edged and exactly to your specifications.
Our machining is so accurate and precise we can cut plywood, usually birch plywood, in such a way as it can be joined together. This means sheets or panels can be joined together without any fixings.
Our machining is guaranteed accurate and precise we make components that fit together! Here is a box for example.
No Job is Too Large or Complex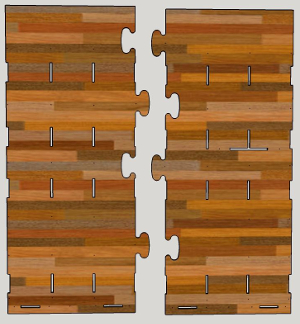 Perhaps, though, your plywood cutting requirements are for a larger or more complex business or industrial task and your cut to size plywood, is required at a price, quantity and quality suitable to your organisations' requirements. Booker Timbers' plywood cutting services are carried out via the latest computer-aided plywood cutting technology and their beam saws are amongst the largest in the UK. The company has the capacity and experience to handle and cut sheets up to 6.0m long and up to 3.8m wide, with board thicknesses up to 90mm. They can cut to within 0.1mm accuracy.
The company uses its advanced software to make best use of the material you have chosen by optimising the whole project. This keeps costs down and reduces waste on your job. Booker Timbers' blade configuration and quality control ensures products are chip free once they have been through the plywood cutting process.
What Plywood Products Do We Cut and Machine?

Birch Plywood - Chosen for special applications where accurate thickness, smooth surface and durability are required. Click here for more about Machined Birch Plywood.
Marine Plywood - manufactured to our exacting standards made from multi laminate hard wood veneers to give the best performance in terms of strength, durability and water resilience. Click here for more about Marine Plywood.
Phenolic-faced plywood - used extensively in the building and construction industry, mostly in the role of concrete casting moulds Click here for more about Phenolic-faced plywood.
Flame retardant plywoods - are constructed from individually treated laminates that are assembled after chemical fire retardant treatment and then a secondary fire resistant treatment is applied. Click here for more about flame retardant plywoods.
Click here for more about Hardwood Plywoods.
Softwood Plywood - a very versatile plywood board highly suited to non load- bearing building work – it comes with a sanded finish. Click here for more about Softwood Plywoods.
Veneered Plywoods - cut s to any dimensions you require to a high level of precision. Click here for more about Veneered Plywoods.
T and G Plywood -can be used in structural and non- structural flooring projects and paneling as it is strong and durable.Click here for more about T and G Plywoods.
Polyester Faced Plywood - used extensively for ceilings and walls and also widely used in horseboxes, caravans and in the conversion of camper vans. Click here for more about Polyester Faced Plywoods.
Why choose us
Precise and accurate cutting

Consistent results

Save time and hassle

Any shape or size machined

One-off or high volume

Nationwide Delivery

Same day response

Years of experience