Phenolic-faced plywood is used extensively in the building and construction industry, mostly in the role of concrete casting moulds used in the production of concrete slabs and pillars.
In order to be reliable for concrete casting, the wood used in moulds has to be strong enough to withstand the enormous pressure and heat the expanding concrete will apply to it as it dries, as well as being highly water resistant. The phenolic resin is coated in a way that allows ease of removal and re-use due to the way it is manufactured.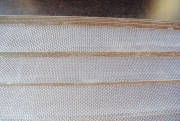 This High Grade Plywood is made from layers of hardwood bonded together with phenolic resin. The veneers are arranged with the grain patterns alternating and hot pressed together which creates a strong permanent bond.
The wood is treated with a chemical preservative and finished on the outer surfaces with a film of phenolic resin, leaving it shiny and waterproofed.
Process of Lamination and Bonding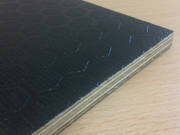 The process of lamination and bonding under high pressure and temperature is strikingly similar to the process of manufacturing Formica where the phenolic resin is applied by use of a paper layer that has been soaked in resin that is hot pressed into the surface of the wood.
This process of resin bonding and heat treatment produces a plywood very similar to marine plywood; waterproof, strong and durable and able to withstand extreme heat and pressure. This makes it ideal for the construction industry as it can be reused several times for concrete moulding, as the concrete does not stick to the surface, allowing ease of removal with minimal damage to the plywood. It is known to leave a smooth finish on the concrete surface, especially when used along with the appropriate parting oil to minimize sticking.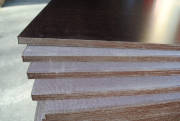 Due to its durability it is often reused many times, even to the point of being used for building of outdoor furniture and work benches after being used in concrete moulding a number of times.
Or fill in the contact form below and we will contact you
Why choose us
Precise and accurate cutting

Consistent results

Save time and hassle

Any shape or size machined

One-off or high volume

Nationwide Delivery

Same day response

Years of experience