MDF, Plywood and Chipboard Precision Machining and Cutting
Booker Timber Ltd is an Independent Timber Merchant specialising in cutting and routering timber based materials. We supply both Nationally and to International Clients.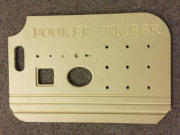 We have a vast range of timber related products and pride ourselves on sourcing the difficult. We are proud of our experience and knowledge. Use our enquiry form to contact us for advice, information or place an order. We also have FAQs as below to help you.
Our large computerised robotic routers are capable of cutting shapes from sheet materials including chamfering and drilling. We have some of the largest beam saws in the UK for cutting sheet materials into rectangular and square panels.
Plywood Cutting and Machining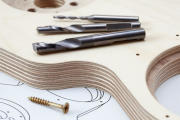 Booker Timber's plywood cutting services are carried out via the latest computer-aided plywood cutting technology, and our beam saws are amongst the largest in the UK. The company has the capacity and experience to handle and cut sheets up to 6.0m long and up to 3.8m wide, with board thicknesses up to 90mm. They can cut to within 0.1mm accuracy.
At Booker Timber we use iadvanced software to make best use of the material you have chosen by optimising the whole project. This keeps costs down and reduces waste on your job.
MDF Cutting and Machining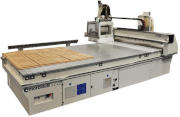 Booker Timber don't just have unrivalled experience regarding all aspects of medium density fibreboard (MDF) cutting and sheet cutting; we also have high-end technology machinery which enables us to carry out computer numerically controlled (CNC) cutting and routing for all manner of small and large orders.When you are designing a project that requires the bespoke cutting of MDF and wooden sheets, it's crucial that you find a good timber merchant to undertake the work.
Booker Timber specialises in this field and are an independent timber merchant with extensive expertise in MDF Cutting whether for bulk or small orders.
Chipboard and OSB Cutting and Machining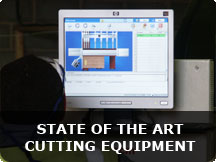 We can cut or router chipboard, plywood, OSB (orientated strand board), MFC (melamine faced chipboard). The beam saws will also cut plasterboard and most types of plastic panels. SAVINGS: Our optimisation software will calculate the most efficient way to cut the boards where different sizes are required, thereby reducing waste costs and minimising the number of boards required.
Our blade configuration and quality control ensures products such as melamine faced panels are chip free.We can pack, label, plastic wrap and strap to your exact specification. We take pride in presentation and accuracy. We can cope with large or small volumes.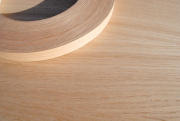 Booker Timber carries a large range of real wood veneers on MDF core boards .Some have MR (moisture resistant) MDF cores.
Both sides are veneered in the more common species and just one sided in the more rare and expensive species.
Our 'state of the art' CNC cutting and CNC routing services include:
MDF (Medium Density Fibreboard) Cutting

Plywood Cutting

Chipboard Cutting

Decorative Panel Cutting

Anti-Slip Board Cutting

Blockboard Cutting

Orientated Strand Boards (OSB) Cutting

Hardboard

Veneered Board Cutting (including Veneered Plywood, Veneered MDF, Veneered Chipboard)

Melamine faced Chipboard (MFC) Cutting

Laminated Panel Cutting
In fact, we can deal with pretty much any cutting of materials that include plywood, chipboard, and wood.
The products that can go through the cutting process are many and varied, and we are happy to offer advice on which material should be used for your specific requirements.
A wide variety of thicknesses can be accommodated – and the size of the CNC beam saws show the power that is required to deal with precision sheet cutting. They can cut sheet up to 90mm thick, and cut within an amazing accuracy of 0.1mm !
FAQ: How accurate can you cut my sheet material?
To within 0.1mm. Check out our Cutting Section for more details.
FAQ: What is the largest board size you can cut and how thick?
5400mm long by 4000mm wide and up to 90mm thick.Check out our Cutting Section.
FAQ: If I give you some dimensions can you calculate the material requirements for my decking project?
Yes we can and give you a quotation. Why not fill in the online enquiry form and check out our Decking Section.
FAQ: Do you stock anti slip boards?
Yes with a choice of mesh, hexagon or circular patterned phenolic faced anti slip surfaces, available in various sizes. Check out our Sheets Section and fill in the online enquiry form.
FAQ: Do you stock real wood veneered boards?
Yes we have a wide range. Check out our Veneered Section to see the different species.
FAQ: Do you stock melamine faced chipboard (MFC)?
Yes, check out our Veneered Section to view the different colours send us an enquiry via the online form.
FAQ: Can you supply machined hardwood?
Yes we can just use the online enquiry form and we can advise you on availability and cost. Check out our Timber Section.
FAQ: My Company specifies that we purchase plywood from environmentally friendly sources can you help?
Yes we are Chain of Custody Certified, see our Environment Tab for the back ground details. We can offer a CE2 marked plywood board in both softwood and hardwood. We have other sheet materials and timber which are also Chain of Custody Certified.
FAQ: What are your opening times?
For collections and deliveries we are open between 8am and 4.30pm Monday to Friday.
Or fill in the contact form below and we will contact you
Why choose us
Precise and accurate cutting

Consistent results

Save time and hassle

Any shape or size machined

One-off or high volume

Nationwide Delivery

Same day response

Years of experience
News
We have recently upgraded two of our robotic Routers to larger and faster models.
After quite a lot of planning we did a sequential replacement of the old machines so that production was not affected.
We now have a dedicated Router machine shed and production is up which is good news for turnaround times for our customers.